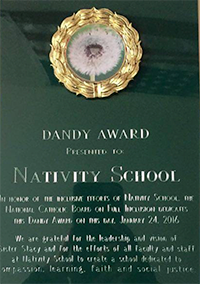 On May 3rd, the six-month anniversary of The National Catholic Board on Full Inclusion, we decided to honor inclusive Catholic educators who are the silent, heroic, fly-under-the-radar-just-do-the-right-thing type. The award highlights people who have been inclusive just because it is the right thing to do…they have unhesitatingly said yes and found a way to make it work. They are doing the work behind the scenes…without any glory…just because of their humble faith and their dedication to all students.
We have called this award The Dandy Award. The award winners will receive a note of commendation and a personalized key ring as a token of appreciation.
May 2015 Recipients
Miss Retseck and Mrs. Clark •  Former Principal and Current Principal of St. Matthew's Cathedral School in South Bend, IN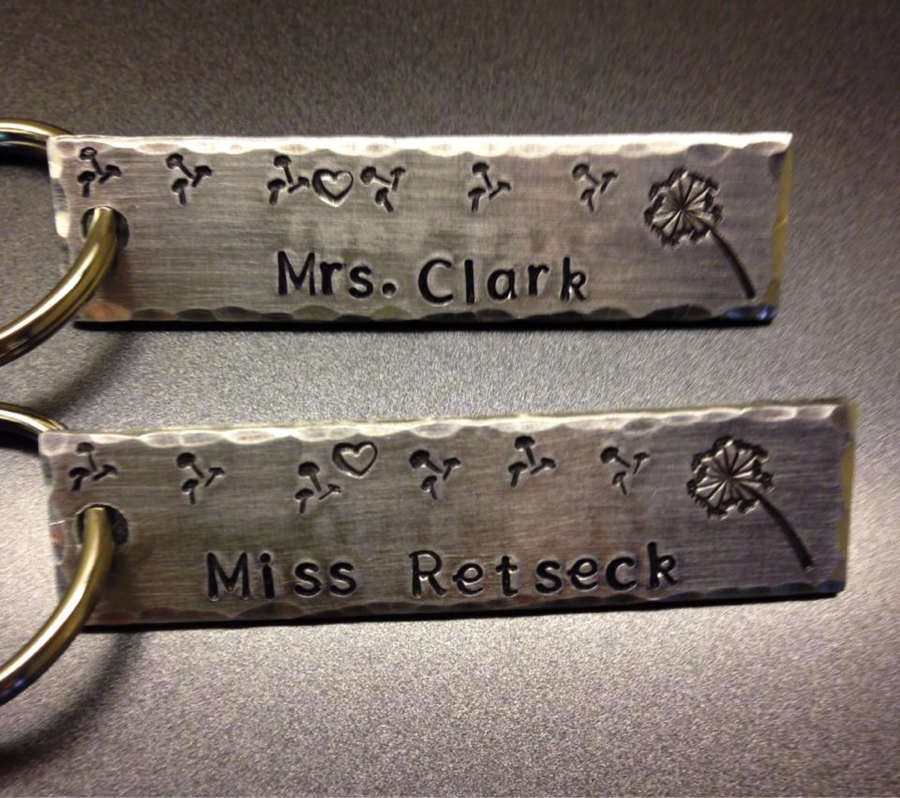 We're starting with Miss Retseck, former principal at St. Matthew Cathedral School in South Bend, Indiana, along with the current principal, Mrs. Clark. Miss Retseck was featured in a story of inclusive opportunity that Rick Becker shared in Catholic Exchange in April. Rick wrote about his son Nicholas who has Down syndrome and who is a 3rd-grader at St. Matt's thanks to Miss Retseck's initiative and Mrs. Clark's continued support.
In his article, Rick wrote this about Nick's participation in the community of St. Matt's School: "Lots of life, room for weakness, and opportunities for goodness – little opportunities, small gestures of kindness, both given and received. That's St. Matthew Cathedral School in a nutshell, an incubator of love, and thus a microcosm of the Church. Thank you, thank you thank you, Miss Retseck and Mrs. Clark! People like you are changing the world one student, one family at a time. "
November 2015 Recipients
Sister Stacy, Father Alberto, Miss Martha, Mrs. Camarena, Miss Rose • Nativity Catholic School in El Monte, CA
In honor of the inclusive efforts of Nativity School, the National Catholic Board on Full Inclusion dedicates this Dandy Award on this day, January 24th, 2016. (Given during Catholic Schools Week in 2015) We are grateful for the leadership and vision of Sister Stacy and for the efforts of all faculty and staff at Nativity School to create a school dedicated to compassion, learning, faith and social justice.
May 2016 Recipient
Mrs. Margaret Stanton • 2nd grade teacher • St. James Catholic School in Davis, CA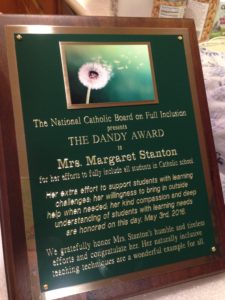 On May 3rd, 2016, Mrs. Margaret Stanton was honored with The Dandy Award. Mrs. Stanton is a 2nd grade teacher that is naturally inclusive and accommodating. Mrs. Stanton intuitively sees a need for a student and offers a differentiated approach. She will work with students to provide what they need to be successful. It can be an additional support to a desk to help feet feel firmly planted and comfortable; specific tools provided to a student as needed throughout the day for an incentive or a sensory break; supplemental materials for student success or in this case, specific instruction with a Deaf and Hard of Hearing Teacher from the county to teach all students in her class American Sign Language so that one student is given the gift of communication and respect from her peers. Most of all, Mrs. Stanton knows how to foster a sense of belonging and connection. In her own words: "Every person belongs" and when you believe that, you find way to make that a reality within the classroom. We are grateful to Mrs. Stanton for her leadership and her example for inclusion.
This is an excerpt of the nomination for Mrs. Stanton:
"As I sit here this morning, I am so grateful for Mrs. Stanton and felt the desire to write this. I know that my husband could add many other thoughts as well but here are some. I know there are many others, but this is what is on my heart this morning.
Here are some of the thoughts:
*before school started in the fall, we asked to have Lyla visit the classroom to get familiar with it in an effort to reduce anxiety. When Lyla visited, Mrs. Stanton gave Lyla attention but also gave her space to explore. In a very touching gesture, we learned then, for the first time, that Mrs. Stanton had taken a college class in American Sign Language (ASL) that summer, knowing Lyla was coming into her class, so that she could have that connection with Lyla in the classroom. During the year, she uses her ASL knowledge to support Lyla, by fingerspelling words from across the classroom that Lyla needs.
*knowing the struggles that we face with Lyla, at her fall SST meeting, she asked what her afternoon schedule was like. We told her of the things that normal kids get to do – go to sports practices (soccer, swimming, karate, etc)—and then we shared the other appointments she had to do because of her hearing loss and other medical issues – weekly speech with both a school district SLP and a health care SLP, therapy for mental health, and various doctor appointments, including regular hearing tests, for other various health issues. After listening intently, instead of commenting on how she hasn't gotten her classwork done for lack of focus or doesn't always get her homework in, she suggested that we not worry about getting homework in each day but instead turn it in when we can and if we can.
*knowing the loneliness of being the only hard-of-hearing child in the entire school, she welcomes the county Deaf and Hard of Hearing (DHH) teacher on a weekly basis to teach a 15 minute lesson in ASL to the entire second grade class. For Christmas, the class learned the ASL for Silent Night to perform in the school Christmas pageant. Not only did the children really enjoy this, but it meant a lot to Lyla to feel like a special blessing to her class rather than just one who has special needs.
*on days when Lyla is struggling emotionally, even if that emotional struggle displays itself as difficulty managing anger rather than silent tears, Mrs. Stanton provides support without judgment or anger or punishment. Rather, she removes her carefully from difficult situations, gives her time to process her feelings, and welcomes her back into class when she is ready. At the same time, she provides helpful feedback, again without annoyance or irritation, to her parents about strategies or approaches to helping Lyla with these struggles.
I cannot say enough about what a blessing Mrs. Stanton is to Lyla, our family, all of her students, and the St. James School community. I am so grateful that God shared Mrs. Stanton's special skills with our family. It has been healing to all of us simply to know that Lyla spends the day with someone so extraordinary.
Thank you for this opportunity to show our appreciation for Mrs. Stanton."
Enjoy this newspaper article about Mrs. Stanton: http://www.davisenterprise.com/local-news/st-james-teacher-honored-for-inclusiveness/