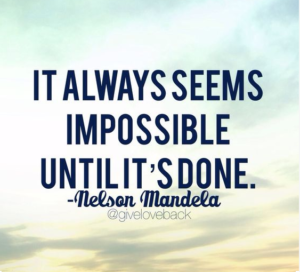 Do you remember Bella?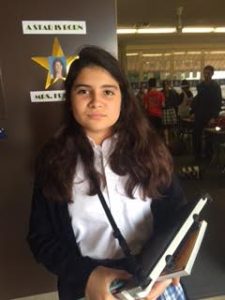 Bella is an 8th grader at St. Pius V Catholic School in Buena Park, California. According to her mother, Ana, Bella spent the majority of her early years suffering from refractory epilepsy. She was a non-verbal autistic and was in an extremely restrictive school environment. With the use of the Rapid Prompting Teaching Method, Bella learned to type to communicate. Her first words to most new people are: http://thephanhouse.com/wp-json/oembed/1.0/ I am smart .
Imagine having to advocate for yourself from the moment you meet someone new. Imagine having to prove your worth. Prove your ability. Prove that you deserve every single typical experience just like any other student. That is what Bella must do every single day.
Finding a haven of inclusion and welcome at St. Pius V even for just a few months, transformed Bella.
She asked to make a display for Open House. She wanted to share her story…and share her classmates' experience of inclusion.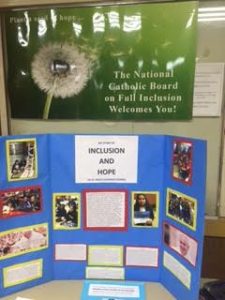 Bella created this display and sat in front of it through Open House hoping to answer any questions and mostly to spread the seeds of inclusion.
[Bella we thank you so much for sharing our poster with your school!]
When students with significant disabilities are included in a typical classroom, many worry that the other students will suffer. Perhaps the rigor of the class academics will decrease? Perhaps the students will be spending so much time dealing with the student with significant learning needs that they will be unable to get their own work done? Perhaps students will feel uncomfortable and not know how to handle the student with a disability?
Turns out that there is no reason to be concerned.
Over thirty years of educational research shows that typical students' academic outcomes INCREASE when a student with significant learning needs is fully included. [That's why we have a special tab on our website pointing specifically to the research – to ease the fears.] In fact, we have data that says that typical students don't have to be in the same classroom for the academics to increase. Just attending a fully inclusive school will increase your academic outcome! Why? The teaching gets better.
Typical students who are in the same class and do work with the student with significant learning needs do not have their own needs overlooked. Instead, they develop compassion, empathy and an understanding of disability that ADDS to the typical students' social/emotional health. When disability enters that typical student's life…and it will enter their life at some point via a family member or their own ailing health, that student's experience in an inclusive classroom will prepare him/her for that next experience. Their fear will be less. Their isolation will be less and their ability to advocate will be significant.
Rarely do we get a chance to talk to the typical students who are included. Rarely do we consider how improved their life experience has been by being educated in an inclusive setting…but Bella's classmates agreed to share their experience.
Their insight is profoundly moving.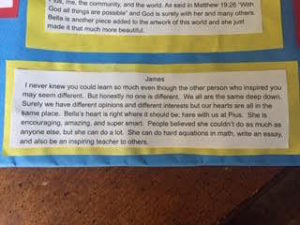 "I never knew you could learn so much even though the other person who inspired you may seem different. But honestly, no one is different. We are all the same deep down. Surely we have different opinions or different interests but our hearts are all in the same place. Bella's heart is right where it needs to be: here with us at Pius. She is encouraging, amazing and super smart. People believed she couldn't do as much as anyone else, but she can do a lot. She can do hard equations in math, write an essay and also be an inspiring teacher to others." – James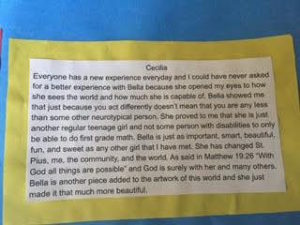 "Everyone has a new experience everyday and I could never have asked for a better experience with Bella because she opened my eyes to how she sees the world and how much she capable of. Bella showed me that just because you act differently doesn't mean that you are any less than some other neurotypical person. She proved to me that she is just another teenage girl and not some person with disabilities to be able to only do first grade math. Bella is just as important, smart, beautiful fun and sweet as any other girl that I have met. She has changed St. Pius, me, the community and the world. As said in Matthew 19:26, "With God all things are possible" and God is surely with her and many others. Bella is another piece added to the artwork of this world and she just made it that much more beautiful." – Cecilia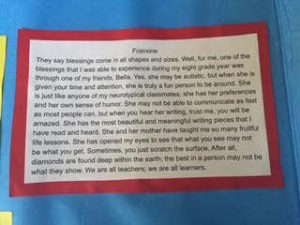 "They say blessings come in all shapes and sizes. Well, for me, one of the blessings that I was able to experience during my eighth grade year was through one of my friends, Bella. Yes, she may be autistic, but when she is given your time and attention, she is truly a fun person to be around. She is just like any one of my neurotypical classmates; she has her preferences and her own sense of humor. She may not be able to communicate as fast as most people can, but when you hear her writing, trust me, you will be amazed. She has the most beautiful and meaningful writing pieces that I have read and heard. She and her mother have taught me so many fruitful life lessons. She has opened my eyes to see that what you see many not be what you get. Sometimes you just scratch the surface. After all, diamonds are found deep within the earth; the best in a person may not be what they show. We are all teachers and we are all learners." – Francine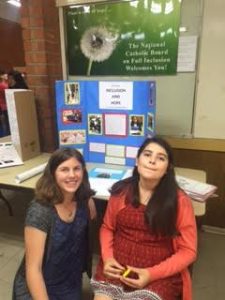 This is Bella with her good friend, Mandy.
These words, these actions of the typical students highlight the importance of the opportunity and the benefit of being inclusive.
It's not just the right thing to do.
Or the Catholic thing to do.
It is the transformative, life-changing thing to do.
Do those students sound like typical 8th graders?
http://thefortpiquaplaza.com/wp-json/oembed/1.0/ Their insight and maturity are exceptional.
They were given an unusual opportunity and they seized it.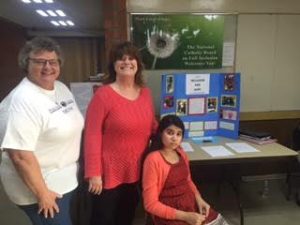 THANK YOU to Bella's teacher, Dr. Bravo in the orange blouse and to St. Pius V's Assistant Principal Mrs. Marianne Hatherill and the entire St. Pius V Catholic School community for saying YES and for finding a way. You have been the hands and heart of Jesus.
THANK YOU to Bella for your advocacy and for sharing your insight.
We are all better for knowing you.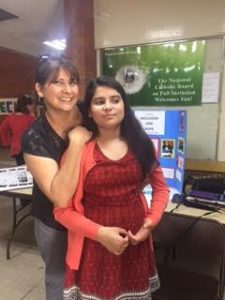 THANK YOU to Ana, Bella's mom, and to Bella for believing and knowing what exactly is possible…and thank you for sharing it with the world.
As Cecilia so beautifully said, "With God, ALL things are possible."
Our job is to shine the light.