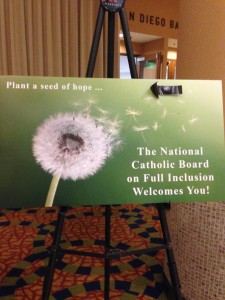 After a lot of planning and dreaming and imagining, the first ever Inclusion Summit for the National Catholic Board on Full Inclusion happened on March 28th at the NCEA convention. We sent out an invitation, we reserved a room at the beautiful Marriott Marquis Hotel in downtown San Diego, we ordered up some treats and had the wine ready…and the people came. It was thrilling to finally meet so many amazing people that I have spoken with over the phone or emailed with frequently in person!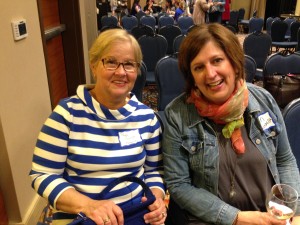 Right here are Lynn and Peggy — the dynamic duo representing the amazing inclusive organization called FIRE from Kansas City, Missouri. Peggy's quote: "The Holy Spirit does live at your kitchen table." reminded us all of the humble beginnings of any effort…and set the stage for so many great stories.
We started our night off with a welcome and a few words from our special guest, Torrie Dunlap from Kids Included Together, Inc. – an amazing organization that helps facilitate inclusion in both recreation and education. Torrie gave an inspiring TEDx talk in October of 2014 about transformation through inclusion — enjoy it here:
After Torrie introduced herself and shared some of her story about why inclusion became important to her, we had everyone introduce themselves one at a time and share their story. The web of inclusion was beautiful to see — several times a person's story overlapped with someone else's or an influential action rippled and influenced someone else is a previously unknown but powerful way. We heard from the principal from St. Stephen Martyr Catholic School in Monterey Park, California, Mrs. Christina Arellano, who said in the most kind, prayerful way about inclusion: "I didn't know it was possible to say no." Her deep faith, her commitment to children, her professionalism pointed all of us in the direction of inclusion. Mrs. Arellano is including a student with Down Syndrome, Nadia, in her school for the first time in kindergarten. She brought with her to the inclusion summit both the kindergarten teacher and the first grade teacher as well as Nadia's mother, Nancy. Equally wonderful and incredibly humble, all of them brushed off the hard work they are doing and instead focused on Nadia and her success in the classroom.
We heard from the inclusion powerhouse, Megan Battle, the assistant director of the Options Program at Paul VI High School in Fairfax, Virginia.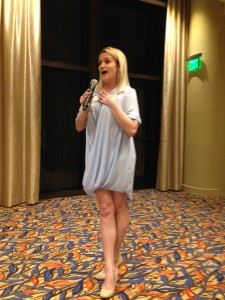 Megan shared her story of being a student at Paul VI High School in the late 1990's when inclusion first began there. She shared how inclusion and friendships with peers with disabilities, especially Laura Lee, transformed her life and influenced it so profoundly that she has become an inclusion focused educator – working tirelessly to create the same inclusive opportunities for the incoming students that she had years ago. Her story is one of the ripples…and her quote: "There's gonna be a day when all of these inclusion ripples meet and will turn into a wave," was not only Tweet-worthy but motivational as well. That wave is coming!
We heard a fantastic story from an educator from Omaha, Nebraska. She was asked to be inclusive as well. Her response: "Why not? We'll have Mallory's Big Adventure!" reminded all of us to take things more lightly. It's not so serious. There are plenty of light-hearted moments and we can all be more willing to laugh and enjoy the beauty of God's grace in our life with these beautiful children.
Over and over again, we heard the power and transformation of saying yes.
Dr. Michael Boyle from the Greeley Center at Loyola University of Chicago and Dr. Vicki Graf from Loyola University in Los Angeles both added their expertise and individual stories (not to mention years and years of effort) – so powerful to hear.
And then, we had the parents: Sharla, Michelle, Carrie, Erica and Tim, Maggie and Andy, Blair and Jeanne, Maria, Elsa, Nancy…and many others. Those advocates are the backbone of inclusion in Catholic schools. Their efforts, their fundraising, their vision for their children have paved the way for others to follow along. I thank you for your support and your big hearts.
It was a beautiful night…chills and sparks of connection happened all night long.
I'm still smiling…and I want to thank every single person who made the effort to be there.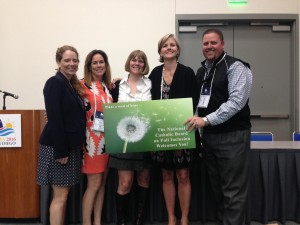 Thank you so much to my team of presenters: Anna Lynch, Inclusion Specialist [her quote: "inclusion means participation" still inspires me], Maggie Byrne – amazing parent advocate, Erica Wahle – amazing parent advocate, and Dave Perry, principal of St. Pat's/St. Vincent's High School in Vallejo, California – you made those two days truly a gift.
Here's the good news: mark April 17, 2107 on your calendar.
We are already planning for Inclusion Summit 2 in St. Louis.
Just in case you are wondering, ALL ARE WELCOME! 🙂