FIVE years ago, on November 3, 2014, The National Catholic Board on Full Inclusion began. We launched our website, our Facebook page, our Twitter and Instagram presence and we started sharing the power of inclusion in Catholic schools.
In FIVE years, a lot has happened…and today, we reflect on the FIVE biggest steps forward that have happened for inclusion in Catholic schools with our help.
Number One: Inclusion Summits!
We've had FOUR Inclusion Summits at the NCEA Convention! The NCEA is the National Catholic Educational Association and it is the biggest professional organization for Catholic educators in the country.
You can learn more about them here: https://www.ncea.org/
We hosted our first Inclusion Summit in San Diego. We had no idea who would come or what would happen…it turned out to be a sacred connection of like-minded, passionate inclusion advocates from all over the country. The event was small enough where everyone could share their story of how they came to care about inclusion…and intimate enough where we could see the tapestry of connection woven so clearly before our very eyes. It was a very special night and we all knew that TOGETHER inclusion would move forward in our Catholic schools. Since then, we have been in St. Louis, Cincinnati and Chicago and now we host the Inclusion Summit with partners in inclusion. Last year, in Chicago, we had FIRE from Kansas City, Missouri; EMBRACE from Kansas City, Kansas; One Classroom from St. Louis, Missouri; and CCSE – Catholic Coalition for Special Education from both Washington, D.C. and Baltimore, Maryland. We also had a guest appearance from Unified Sports from Special Olympics – a partnership that will only grow more in the years to come. We are so very grateful for our partners and the ripple that is happening across the country because of these connections.
Mark your calendars for Inclusion Summit #5 in Baltimore, Maryland on Monday, April 13th, 2020!
Look for our invitation shared across social media after the new year.
Number Two: Inclusive Catholic High School Conferences!
We've had TWO Inclusive Catholic High School Conferences! The first one was hosted by John Paul II Catholic High School in Hendersonville, Tennessee. We spent two days visiting inclusive Catholic schools, seeing an inclusive college program, and learning from some of the best special education professors in the country at Vanderbilt University.
Last year, we visited The Diocese of San Diego and saw two incredible inclusive Catholic schools in action, St. James Academy and Cathedral Catholic High School. We had professors from PIE- Program for Inclusive Education – from University of Notre Dame as well as a professor from University of San Diego, share best practices including: Universal Design for Learning, Multi-Tiered Systems of Support and Educational Technology.
This year, February 3-4th, 2020, will be our 3rd Inclusive Catholic High School Conference in Portland, Oregon. The Madeleine School and Central Catholic High School will be the inclusive Catholic schools that we visit along with an introduction into inclusive college at Portland State University. We will be blessed with an amazing keynote speaker, Karen Gaffney!
Learn more about her here: http://www.karengaffneyfoundation.com/
We will also be receiving professional development from amazing PIE Professors, Dr. Christie Bonfiglio from University of Notre Dame, Dr. Michael Faggela-Luby from TCU and Dr. Sean Smith from University of Kansas.
If you are interested in having your Catholic high school attend, please fill out this Google Form:
https://docs.google.com/forms/d/e/1FAIpQLSfoCnvCLQjt2rH_e4pYcpqUsR0U_VQzjHQm4fxg45oQ_u_oEw/viewform?usp=sf_link
If you are really lucky, you will get to hop on the bus to inclusion like the Inclusive Catholic High School participants did last year. 🙂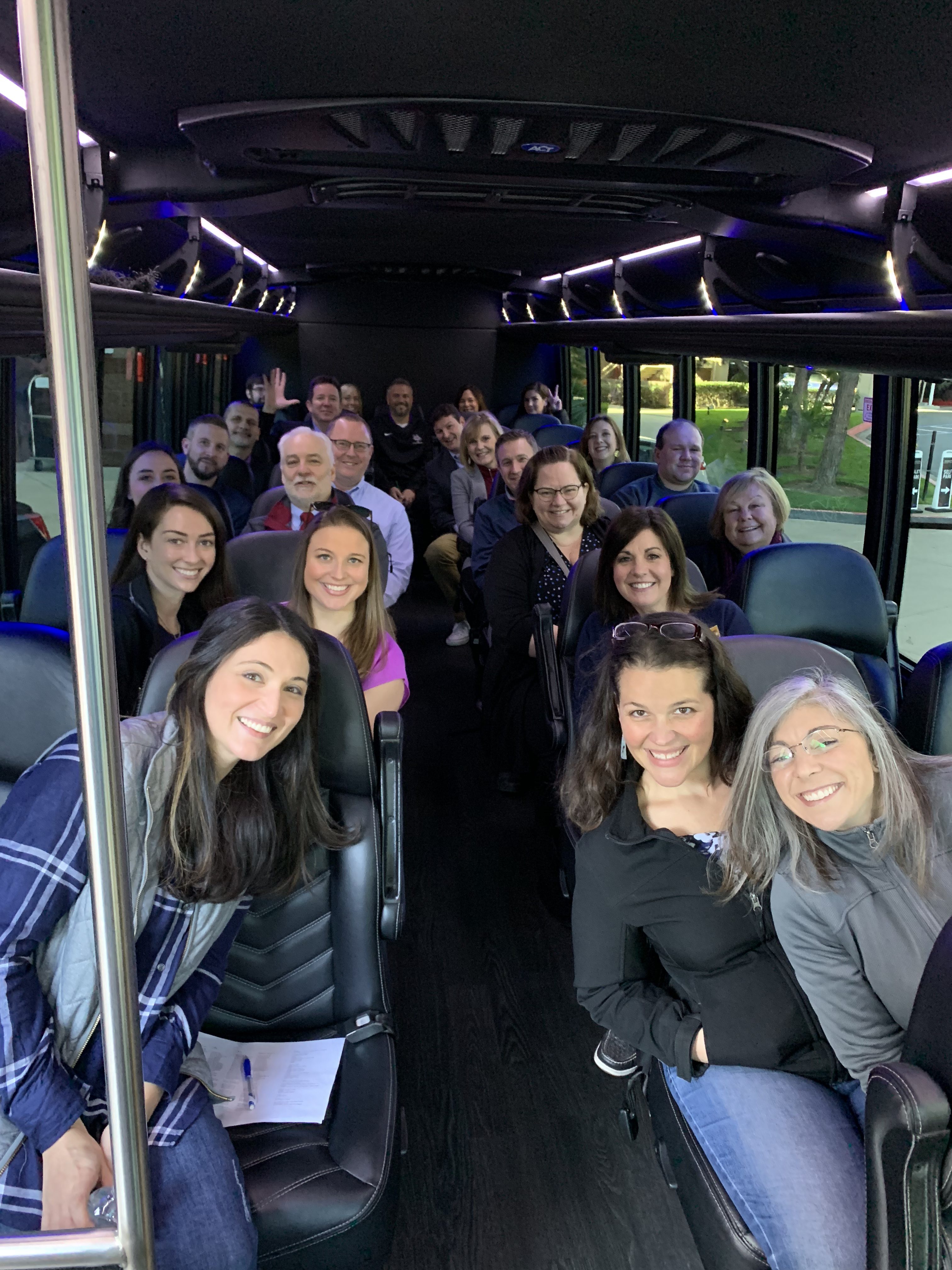 Number Three: Our Dandy Award
Every November and every May, we award a deserving teacher, principal or support specialist for their inclusive efforts that are under-the-radar, over-the-top, and a true example of Christ's love and leadership. It has been our JOY to acknowledge the work that is often behind-the-scenes, humble and full of compassionate kindness. So far, we have awarded 9 schools with such a distinction and they are located on our map of inclusive schools too.
THREE CHEERS FOR:
St. Matthew's Cathedral School  – South Bend, Indiana
Nativity Catholic School – El Monte, California
St. James Catholic School – Davis, California
Immaculata Catholic School – Durham, North Carolina
Blessed Trinity Catholic School – Ocala, Florida
John Paul II High School – Hendersonville, Tennessee
St. Thomas More Catholic School – St. Paul, Minnesota
Nativity Catholic School – Charleston, South Carolina
St. Catherine of Alexandria Catholic School – Riverside, California
You can read about each of the incredible educators at our Dandy Award Page: https://fullinclusionforcatholicschools.org/dandy-award/
Number Four: Speaking Up for The Marginalized
We have been very grateful to have the opportunity to speak at many conferences, gatherings, and schools. The National Catholic Board on Full Inclusion is a resource to both parents and educators. We offer mentors at every grade level, people with expertise on specific disabilities and inclusion specialists who are willing to support anyone who wants to begin inclusion.
When schools or families reach out, we use our nation-wide connections to help support the inclusion process.
We offer educational best practices. Research. Data. And stories…the stories of possibility are the most powerful.
It was a JOY to be part of a webinar for Dr. Erik Carter on inclusion in Catholic schools.
You can see that link here: https://faithanddisability.org/webinar/webinar-inclusive-catholic-schooling/
We wrote an article for University of Minnesota's Journal for the Institute on Community Integration called Impact. The issue was dedicated to information for Inclusive Education for K-8 Students with the Most Significant Cognitive Disabilities. The title of our article was Who's Missing?? A question we should ask ourselves daily.
The link to the entire online journal is here: https://ici.umn.edu/products/impact/312/Catholic-School-Inclusion/#Catholic-School-Inclusion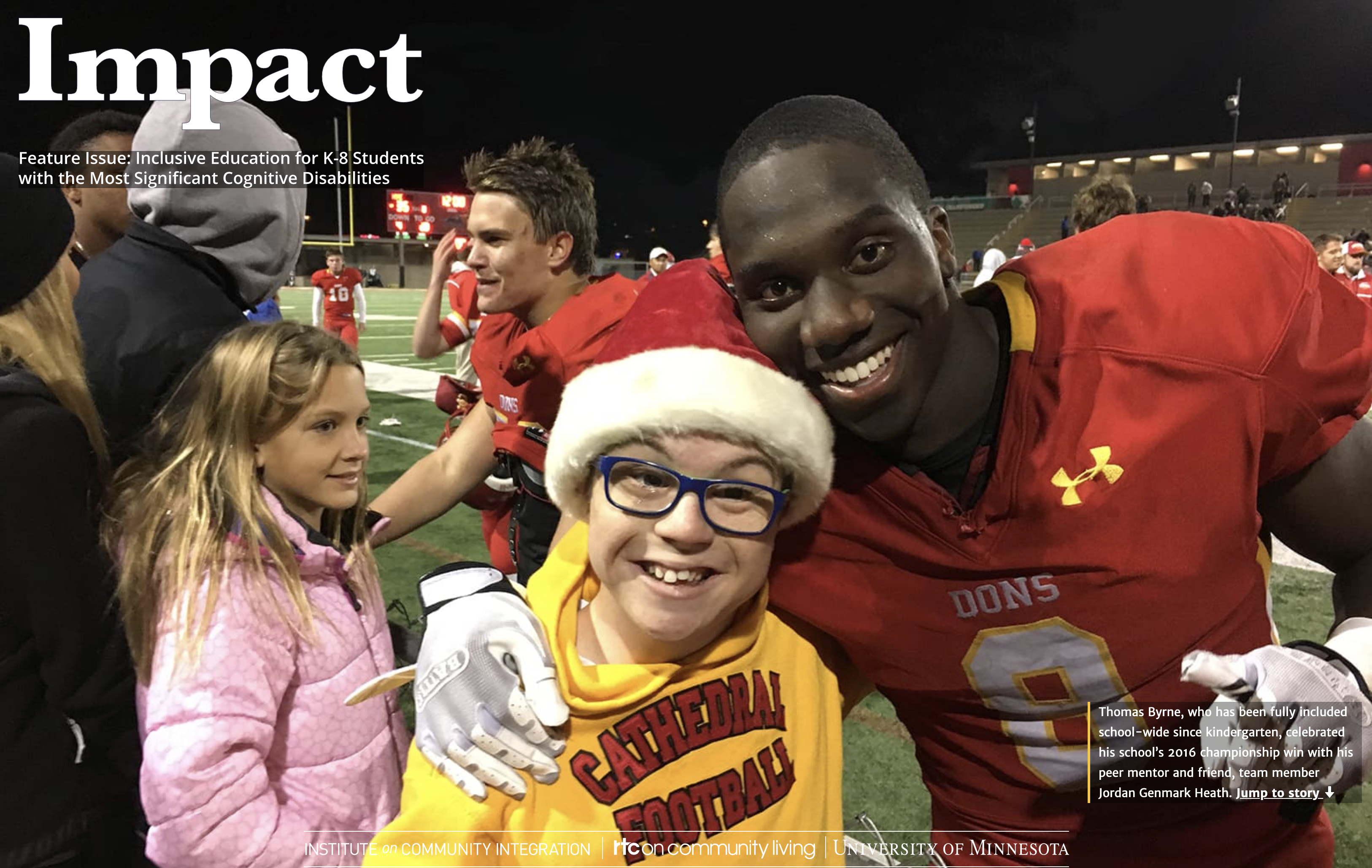 SHOUT OUT to the Greeley Center at Loyola University of Chicago and the NCEA who continue to partner with us and amplify our efforts.
SHOUT OUT to the First and Second Cohorts of PIE – Program for Inclusive Education – at University of Notre Dame for their great work and massive INCLUSIVE ripple that they are moving across the nation. So grateful for your good work!
Here is a link to PIE's video series where they hand the microphone to the marginalized:
https://vimeo.com/370135982/b19051e7ef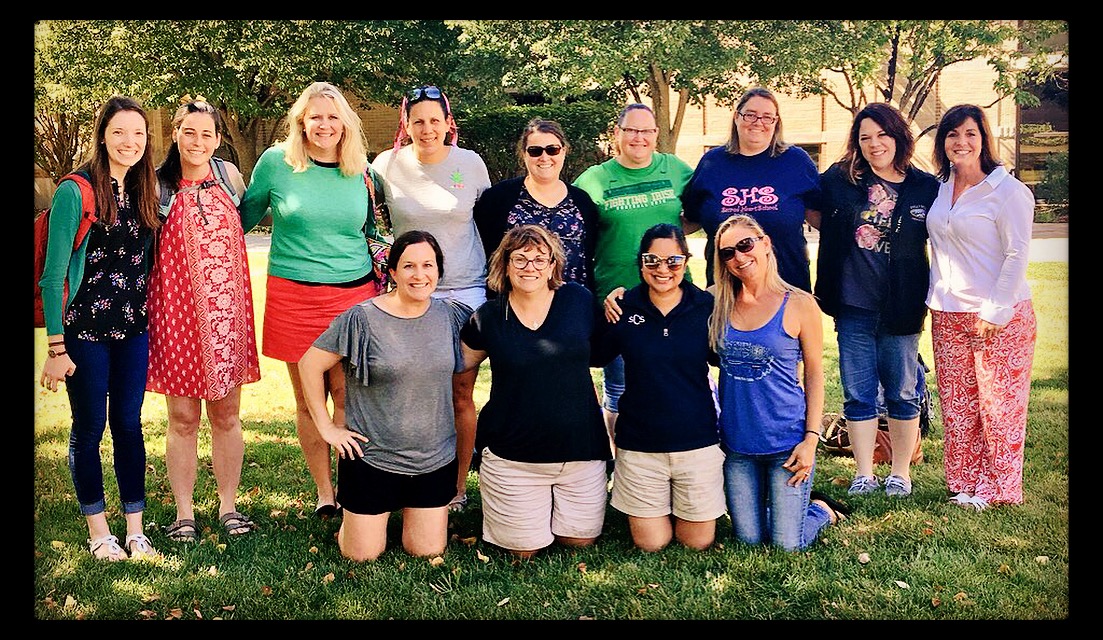 Number Five: Connections – Connections – Connections
Our super power is finding people who have questions, ideas or suggestions and matching them with others who are working on the same things…or wondering the same things…or hoping for the same things. Since 2014, there has been significant movement toward inclusion in Catholic schools across the country. A big part of that is because people are connecting and sharing their good work.
We connect through social media:
#CatholicEdChat is a  Twitter conversation led by Barb In Nebraska 🙂 every Saturday morning at 7:30 Central Time…so many good people are on that conversation…you can meet the most amazing people. Try it!
Podcasts:
There is CatholicEd4All – Dr. Raul Escarpio's podcast about Catholic special education and inclusion. We've been grateful to be included in the conversations several times. Find it here: https://catholiced4all.libsyn.com/ 
Catholic School Matters – Dr. Tim Uhl's podcast on all things Catholic school. Seriously, if you have a question or interest in Catholic schools, you can learn so much here: https://catholicschoolmatters.libsyn.com/ 
Instagram: @inclusionchick Find us there and join the Catholic School inclusion conversation!
Facebook: The National Catholic Board on Full Inclusion FB page The latest inclusion information is shared daily there.
Twitter: @inclusionchick Find us there sharing all sorts of inclusion ideas, innovations, research and thoughts…not to mention great stories.
OK, friends, those are our BIG FIVE…sending all of you a HIGH FIVE on this great day!
If you'd like to donate $5 to our effort, or any multiple of 5 🙂 in CELEBRATION of our FIVE YEARS ANNIVERSARY you can do so with this Donate Link:
https://fullinclusionforcatholicschools.org/donate-ncbfi/
Just click on the word DONATE.
We leave you with this one thought: LOVE is our mission.
Keep loving…keep working for Radical Kinship.
Keep your eyes on the Revolution of Tenderness as Pope Francis calls the effort of inclusion.
Do not be discouraged.
Do not be dismayed.
Together, we can do this.
Pope Francis' TED Talk – The Revolution of Tenderness is here: Why The Only Future Worth Building Includes Everyone –  https://www.ted.com/talks/pope_francis_why_the_only_future_worth_building_includes_everyone/transcript?language=en