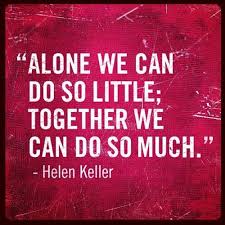 So many days we work on our own, feeling alone, wondering if we are the only ones who care about including students with disabilities in Catholic schools.
It's not true.
There are so so many good people doing good work all over the United States and we have a chance once a year to come together at the NCEA (National Catholic Educational Association) national conference.
This year FIVE groups worked together to host our Inclusion Summit 3 in Cincinatti, Ohio!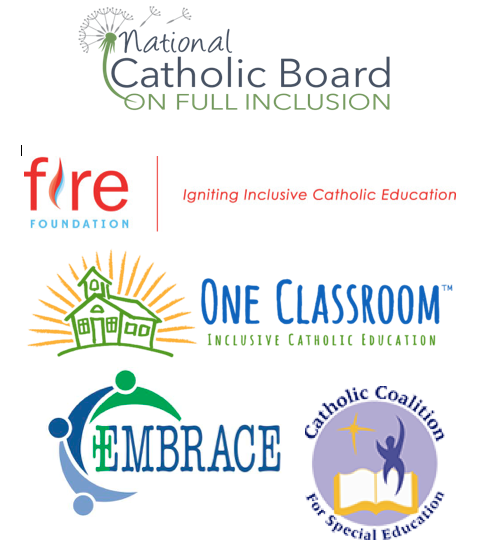 The National Catholic Board on Full Inclusion working all over the nation; FIRE Foundation from the Diocese of Kansas City (Missouri)/St. Joseph; One Classroom from the Archdiocese of St. Louis, Missouri; EMBRACE from the Archdiocese of Kansas City, Kansas and Catholic Coalition of Special Education (CCSE) that works with the Archdiocese of Baltimore, Maryland and the Archdiocese of Washington, D.C.
Shout out to the newest group, EMBRACE.
They may be new but they are starting off strong. Conceived in 2005, they launched in 2016.
Here is their vision:
"A world where every child is embraced for their unique God given abilities and provided the Catholic education necessary to learn to their fullest potential and become the person God made them to be."
Pretty beautiful.
EMBRACE gave out over $250,000 in grants for the upcoming school year to over 25 Catholic schools. They give grants for curriculum, for personnel in the form of Occupational Therapists, Physical Therapists, Speech and Language Pathologists, Special Education Teachers, Social Skills Coaches, Instructional Coaches and for other resources as requested. They have a resource center that supports both teachers and families and a partnership with local groups as well.
Meet the heart and soul of EMBRACE: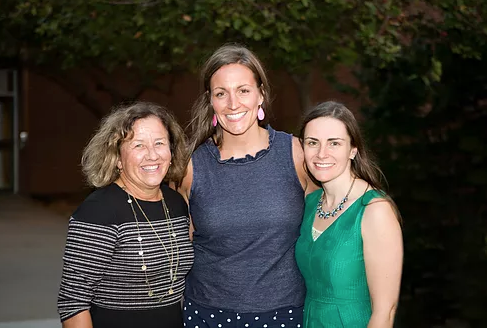 From left to right
Jane Raul – Director of Operations
Liz Obrecht – Special Projects Coordinator
Maggie Mosher – Executive Director
Our Inclusion Summit 3 kicked off with an opening prayer given by our representative and fellow huge-hearted, non-stop advocate, Tony Armitage, from One Classroom.
He read the prayer from FIRE:
"Living and True God, you created all that is good and holy in your image.
Be close to us your servants who gather here today.
Be our constant help and protection as we lovingly reach to embrace and welcome ALL of your children, regardless of their abilities, into our parishes and schools.
Bless our children as they grow together in faith, knowledge and friendship.
And bless their parents and educators who guide them through challenges, who celebrate their special gifts and encourage them to reach their full potential.
We ask this through Jesus Christ, your son, our Lord, who lives and reigns with you and the Holy Spirit, one God, forever and ever. Amen."
After that, we shared what each group does and how they are working to meet the needs of their diocese.
Together we planted a whole lot of seeds of possibility.
We then broke into small groups and worked TOGETHER to consider the big ideas of inclusion: financial barriers, systemic barriers, overcoming the mindset that some students don't belong; social inclusion and what that looks like; meeting the needs of all learners in a classroom…we had an opportunity to learn from everyone and to share ideas and work arounds…like any inclusion advocate, we problem-solved and considered different perspectives. We wrestled with this hard work…and supported and encouraged those that are doing the work and those that are just beginning.
Here are our breakout session posters – as you can see, a lot of important ideas were shared: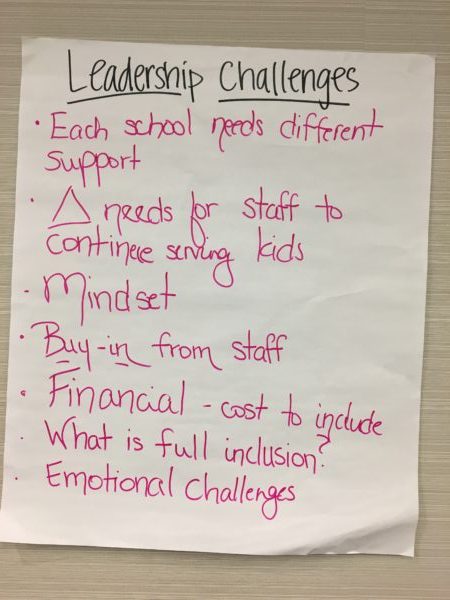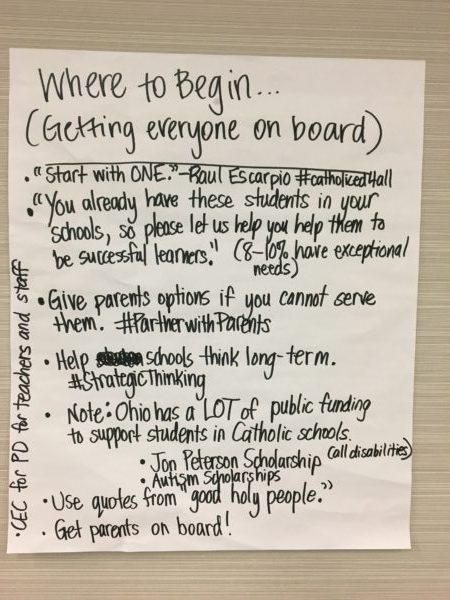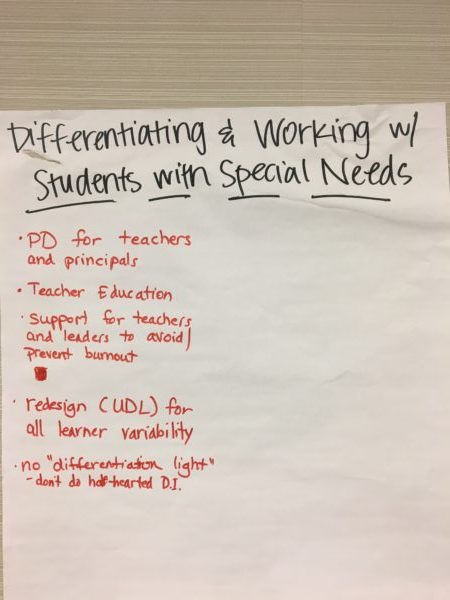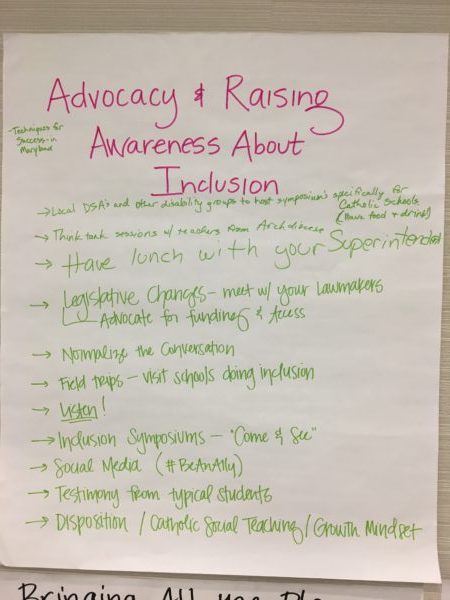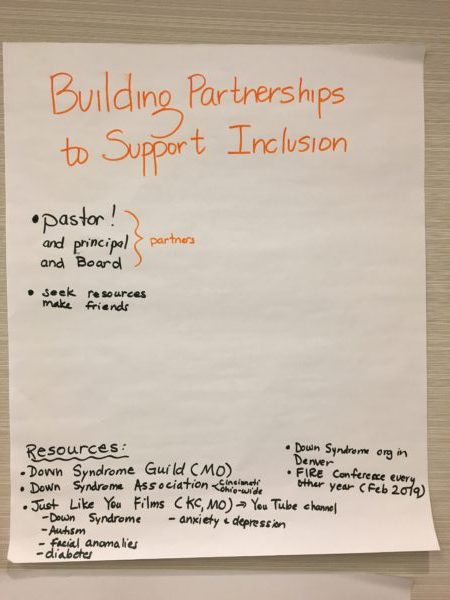 We shared swag!
We made connections.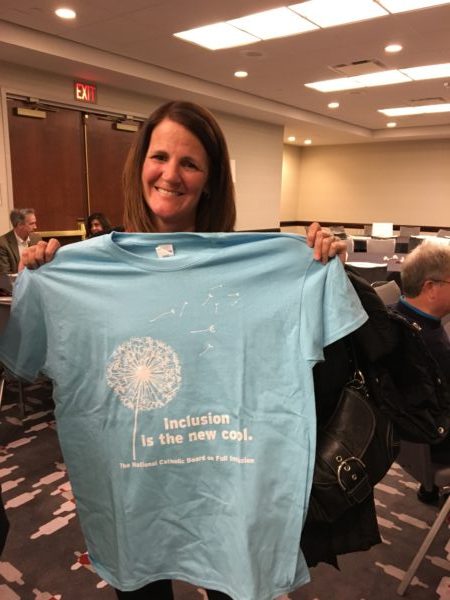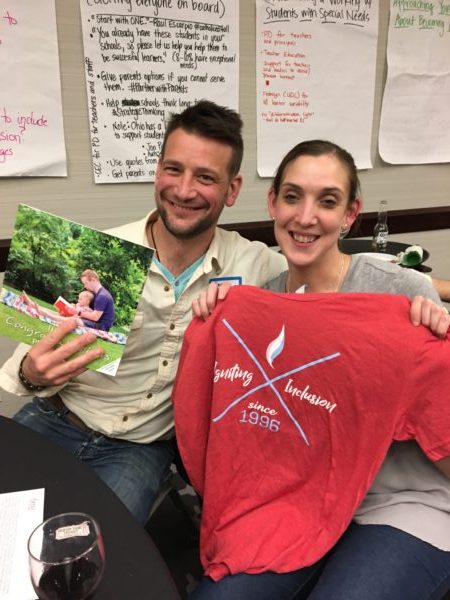 Meet two awesome educators from one family!! Vince is the principal of St. Mary's Catholic School in Woodstock, Illinois and his sister is another principal in the diocese with him – the Diocese of Rockford, Illinois.
Shout out to these two incredible educators!!
Incredible!
One other shout out goes to the Catholic universities who came and represented.
YES! Catholic universities are working to prepare Catholic teachers to be inclusive and to develop the leadership needed within Catholic schools to open the doors.
Let's hear it for Loyola of Chicago's Greeley Center and their contingent who came.
Notre Dame University's PIE – Program for Inclusive Education peeps came.
Loyola Marymount University represented!
THREE universities were in the house!
And let's hear it for TWO Catholic podcasters, Dr. Tim Uhl from the Diocese of Montana and Dr. Raul Escarpio from the Archdiocese of Miami, who came to our Inclusion Summit 3. Both have worked to amplify our efforts and added their own advocacy and important educator point-of-view.
Please listen to
Catholic School Matters: https://catholicschoolmatters.libsyn.com
Catholic Ed4All: https://itunes.apple.com/us/podcast/catholic-ed-4-all/id1239558817?mt=2 
In that room, we brainstormed, we imagined, we wished out loud and we thought BIG.
It was powerful and promising to see so much commitment to the students who are often the most forgotten, isolated and alone.
Here is a reflection on the evening from Lynn Hire, Executive Director of the FIRE Foundation:
"The Holy Spirit has been with the FIRE Foundation since day one – opening hearts and minds and helping educators and parents see new possibilities for children. Not surprisingly, the Holy Spirit showed up to be with all of us on April 2nd at the Inclusion Summit in Cincinnati. As I listened to the voices in the room, I heard enthusiasm, curiosity, hopefulness and determination. I felt the presence of the Holy Spirit who had come to "shake things up". Stirring souls. Tearing down walls. Refocusing perspectives. I'm so grateful to all the educators, parents, administrators and advocates who accepted our invitation to come and listen and share and learn from each other. What a powerful and inspiring exchange of ideas and experiences. The table conversations were robust and engaging and offered a wonderful opportunity for inclusion seekers and supporters to brainstorm on best practices. From funding to advocacy to figuring out ways to reach all learners – what a beautiful symphony of ideas and inspiration. And faith! After all – that's kind of what binds us all together. It's so exciting to see and hear our friends embracing inclusion as an opportunity to live and share our Catholic faith. One of the most joyful take-aways from the summit was a noticeable shift in the narrative on inclusion from "what students can't do" (disabilities) to "what students CAN DO" (abilities). There's an urgent need to carry this conversation out into the world so that EVERYONE in our Catholic communities can begin to embrace and act upon the call to INCLUDE children of all abilities in our Catholic school classrooms. We left energized and grateful… and ready to continue our efforts to make inclusion the new normal in ALL Catholic schools."
Lynn's reflection on faith and perspective are spot on.
There is a shift taking place within our community…moving to seeing the beauty of diversity and the value of inclusion and noticing what our students who are often on the sidelines can bring to the table…they have important gifts to share, if they are only offered a chance.
Today, one month later, we are moving and growing and continuing our energized efforts.
If you feel the whisper in your heart, join us.
Share your vision.
Work to make Catholic education available to all students.
It's possible…Cincy showed us that!