February 7-8th, 2019, 50 Catholic school educators made their way to San Diego, California to attend our 2nd Inclusive Catholic High School Conference.
It's a leap of faith to take time out of your normal work schedule, watch the emails pile up, push aside the many things aching for your attention, and make space for professional development.
These awesome people did! Shout out the the educators from the Archdiocese of Los Angeles, the Diocese of Orange, the Diocese of San Bernardino, the Diocese of San Diego, the Diocese of Nashville, the Diocese of Phoenix, the Diocese of Detroit, the Diocese of Tulsa, the Diocese of Portland, the Diocese of Providence, the Diocese of Arlington, and the Archdiocese of Milwaukee. A huge thank you to the professors who came to share their expertise…including Dr. Christie Bonfiglio from University of Notre Dame's Program for Inclusive Education, Debbie Sullivan from Loyola of Chicago's Greeley Center, Dr. Michael Faggella-Luby from Texas Christian University, Dr. Suzanne Stolz from University of San Diego and Dr. Sean Smith from the University of Kansas.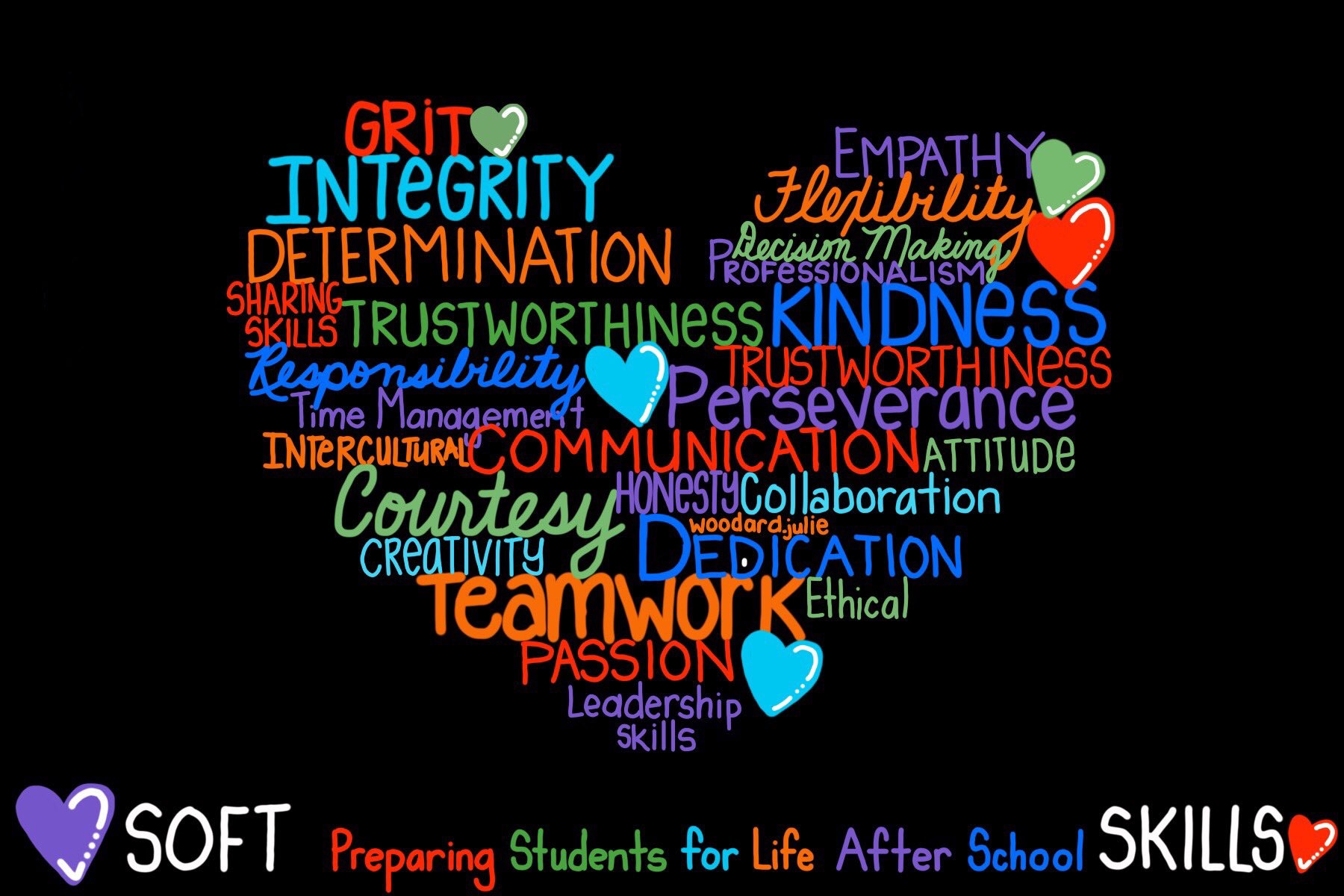 Here are the Soft Skills so necessary for our students…they needs these skills in school but they need them even more out in the world. Our world can be difficult to navigate but with a core foundation of these soft skills and our faith, our Catholic school students can successfully make their way. Where are the opportunities to build skills like these?
INCLUSIVE SCHOOLS.
Having an inclusive Catholic school provides daily opportunities for both typical students and students with learning needs to grow in these important skills. Empathy, flexibility, collaboration, teamwork and all of the others happen organically in inclusive schools.
We spent our first day together visiting two exceptional schools and seeing the Best Practice of Peer Mentors in action…we GOT ON THE BUS for inclusion and headed over to a gem of a school, St. James Academy in Solana Beach, California. The principal, Christine Lang, met us at the bus and treated us to coffee, pastries and the journey of building one of the only peer mentor programs in the country in a K-8 Catholic school.
We had a kindergarten teacher share with us her fears and worries of having a student with identified learning needs in her class. Her truth was something all of us could relate to…and then she shared that she realized that she was only considering herself and her needs. Once she began to think of her student's point of view and how he must feel, she was able to offer the supports he needed. Her honest vulnerability reminded all of the educators that mindset can often be the most important thing needed for a student to succeed.
Once of the best parts of the morning was listening to the peer mentors and seeing how powerful this opportunity was for the typical students. Over and over again they shared how much they grew, how much they learned, how much they enjoyed being able to mentor another student.
Meet Ivan and Angelo. These two have been paired together for years. Ivan has graduated from St. James but he came back to share his experience…to explain how much this opportunity meant to him…and it was clear that Angelo felt the very same way.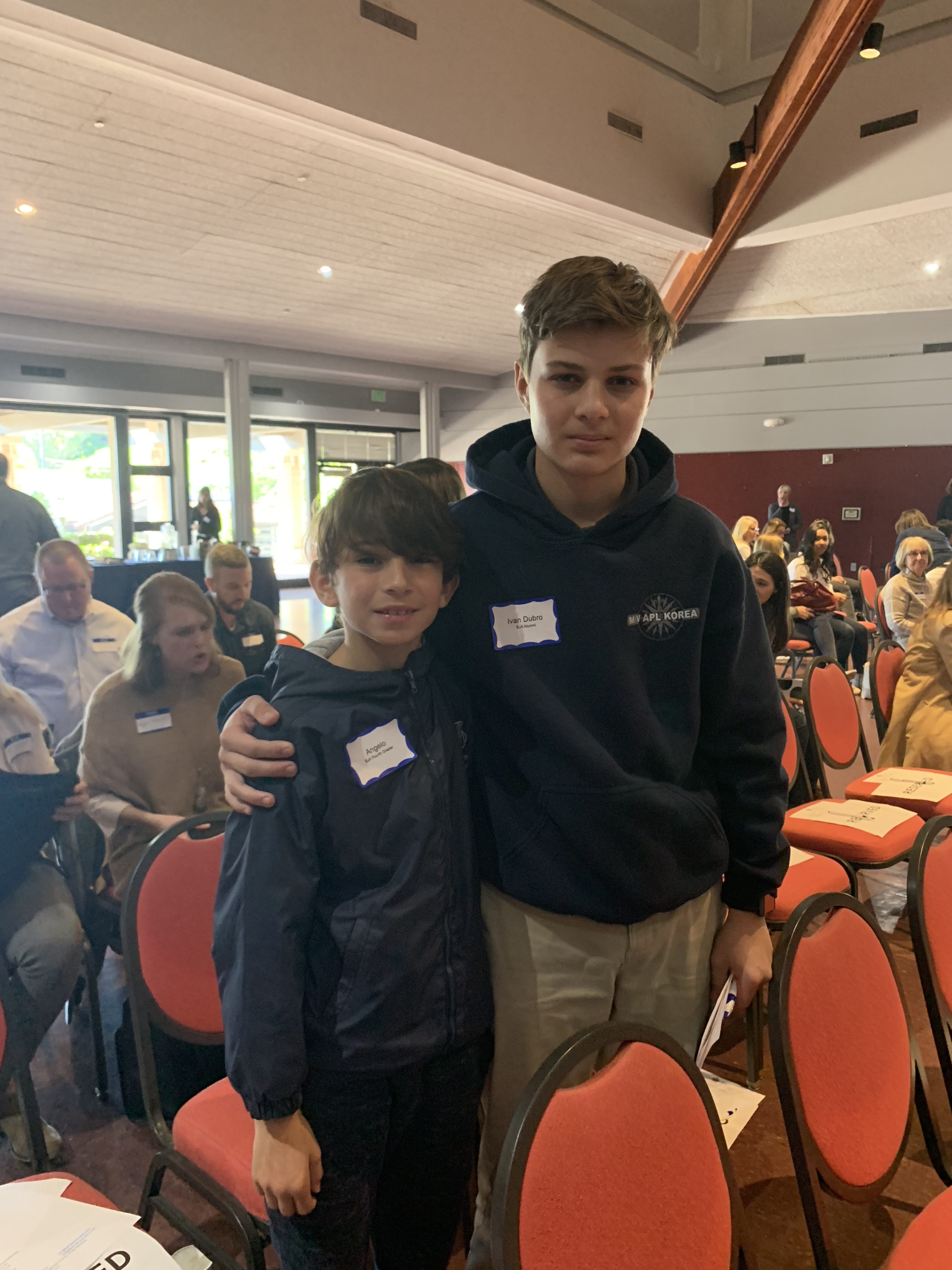 We got back on the bus and were treated to an incredible lunch (created by the amazing Susan!) at Cathedral Catholic High School.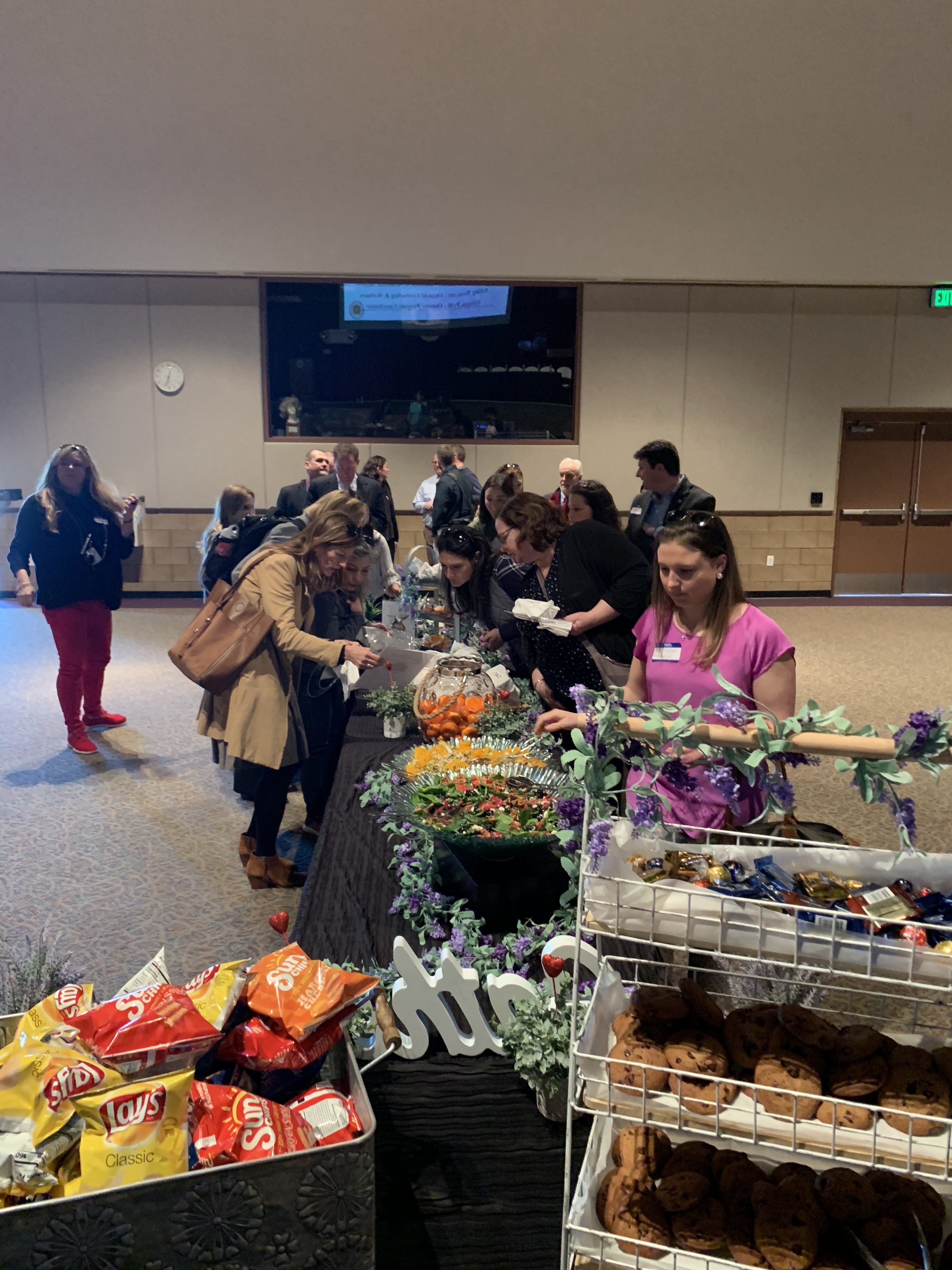 At Cathedral Catholic, we were given a taste of what a Multi-Tiered System of Support looks like in action…another Best Practice, if you were keeping count. Cathedral offers a Learning Center where over 230 students are supported, an Academy where 12 students are co-taught and then included in other coursework, and an Options Program where students who need significant support are fully included with Peer Mentor support as needed.
St. James Academy and Cathedral Catholic are truly schools where All Are Welcome and the joy of the students shows.
Seeing inclusion in action and then learning about the nuts and bolts of how it is done is a huge gift and we are forever grateful to both schools for opening up their doors, getting out of their comfort zone and sharing…these schools aren't perfect…but they have a Growth Mindset and they believe in the power of inclusion.
At Cathedral, we were gifted with the stories from the peer mentors of inclusion, learning and deep compassion for all students. One student mentioned a magical moment at a recent basketball game and how impactful it was to see an entire gym crowded with students cheering for the students in the Options program playing against the faculty. Dr. Burton recounted how a basketball player on the varsity team intuitively understood the moment and created space in the play to support a student in a grace-filled, appropriate way highlighting how the culture of inclusion is embedded within the school without much fanfare…just because that's the way it is done.
Thomas' Basketball Moment at Cathedral Catholic
Day 2 we spent time at the Marriott Del Mar learning from some of the best professors in inclusive education. Each of these amazing people took time out of their busy schedules to share best practices, research, expertise and insights with our classroom teachers and administrators. They offered real-life work arounds, apps, ideas and solutions to some of the most difficult challenges when including students. We learned so much from each one.
Dr. Christie Bonfiglio shared her work on Connecting the Dots – how all of these supports can work together.
Dr. Michael Faggella-Luby shared his work on Multi-Tiered Systems of Support – MTSS
Dr. Suzanne Stolz shared her work on Universal Design for Learning – UDL
Dr. Sean Smith shared his work on Educational Technology – Ed Tech
They offered "Office Hours" to speak with individual educators about their specific challenges!! How cool is that?
Their generosity both as academics and as faith-filled people was extraordinary…and we are so grateful.
When it comes to inclusion, LOVE is spoken here.
Shout out to Principal John Garrow, recently interviewed by our friend, Raul Escarpio for his podcast, CatholicEd4All here: https://player.fm/series/catholic-ed-4-all/episode-69-john-garrow
who has graciously allowed us to have our 3rd Inclusive Catholic High School Conference at Central Catholic in Portland, Oregon.
Yes, friends, you heard it here first…SAVE THE DATE: Feb.6-7th, 2020 in Portland, Oregon.
Get on the bus with us for inclusion!!❤️