February 18-20th, 2019 the people who value inclusion in Catholic schools nationwide gathered in Kansas City, Missouri for the FIRE ????Conference.
As FIRE Director, Lynn Hire, said so well: "We are in America's heartland, so fitting since we know that inclusion is a matter of the heart." Over 20 states were represented!
To kick off the event, we heard from Dr. Raul Escarpio of the podcast, CatholicEd4All, https://itunes.apple.com/us/podcast/catholic-ed-4-all/id1239558817?mt=2 and a self-advocate named Mary Warm whose dad shared her thoughts on her behalf since she was sick…some of their highlights:
"Simple accommodations can be very helpful and should be embraced by all." Dr. Raul Escarpio
He pointed out that we offer gluten-free hosts for parishioners who need that. We offer Reconciliation using a communication device.
Raul shared this quote: "You aspire to do great things? Begin with the little ones." – St. Augustine
Mary Warm reminded us: "We are all kissed by angels."
Mary's dad shared this observation: "When we create inclusive places we are uplifted and enlightened by a perspective that is different from ours…when we intentionally create a place to include all children…we create opportunities for kindness." 
The first of the two full days were spent touring schools! Only we didn't just have one bus like we had at the Inclusive Catholic High School Conference…there were FOUR large touring buses filled with educators from all over the country.
My bus stopped first at Our Lady of the Presentation a K-8 Catholic school in Lee's Summit, Missouri. https://olplsschool.org/
There, we met Principal Jodi Briggs who generously shared the development of the school's inclusive program and the evolution of support and services seven years ago. We heard from a mother who has a son with autism and struggled to find a school willing to fully include him. Roman was asked to leave his school in Kindergarten…ended up being home-schooled…and then finally, Roman's mom found Our Lady of the Presentation…where Roman did not have to earn his way in…he was simply welcomed in. Roman's mom made this important observation of the students at Our Lady of the Presentation: "These students know nothing different than inclusion…I can't help but wonder how these kids will be as adults…as business owners and managers."
The ripple of inclusion goes beyond anything we can predict or plan and influences lives for decades…in fact, it influences families and students for their entire life.
The next school we visited was St. Michael the Archangel Catholic High School in Lee's Summit, Missouri. https://smacatholic.org/   The school was recently built and the facilities are tremendous…but the heart of the school, the center, is inclusion. Every part of the building was created with the philosophy of inclusion as the center. Nancy McCoy and her husband, Steve, were the first to create a Peer Mentor program at Archbishop O'Hara High School which is now St. Michael's…so the school's culture is one of inclusion.
It is easy to get overwhelmed by the beauty of the facilities, the depth of the inclusion program at St. Michael's and think that it is so so hard to be inclusive at the high school level…but Principal Jodie Maddox created a clear, quiet space in all our minds and hearts when she said:
"If all you have is peers helping peers, you are doing it." "We are in this together."
Both principals are willing to help any school become inclusive. They have each seen what is possible and how deeply and positively inclusion influences a school.
There were other amazing moments…thoughts of inclusion from Dr. Mike Boyle from the Greeley Center at Loyola of Chicago: https://www.luc.edu/gcce/index.shtml
His words: "I choose to be in this ship." was a reminder that inclusion is a choice that we must make over and over again…even when it's hard.
Mike shared the insight and the wisdom of Jean Vanier, Founder of L'Arche: https://www.larcheusa.org/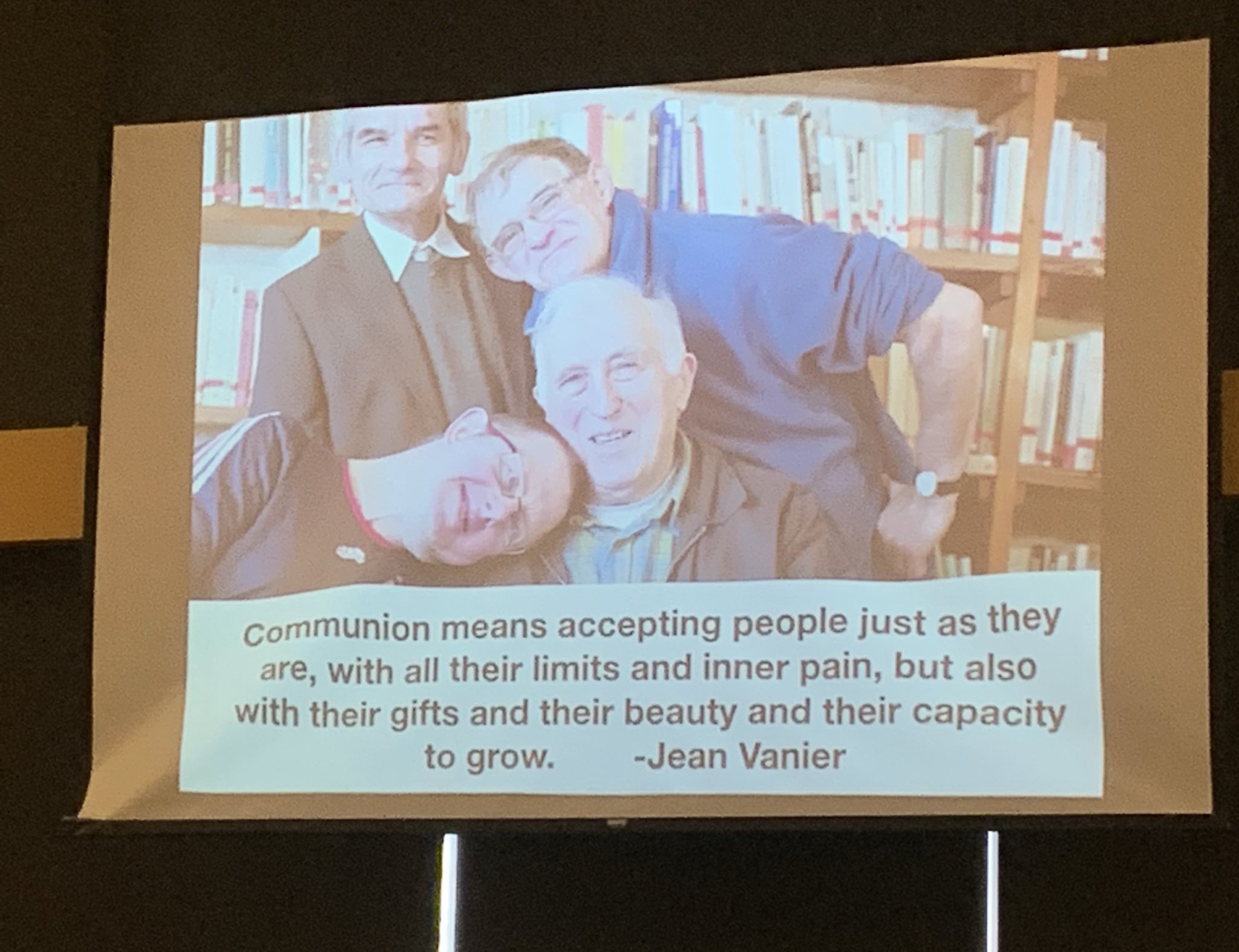 Nicole Eredics of The Inclusive Class: http://www.theinclusiveclass.com/ reminded us to SAY YES!!
She shared the Keys to Inclusion…and encouraged us to find a way to modify and accommodate all students.
Dr. Christie Bonfiglio from University of Notre Dame: https://ace.nd.edu/inclusion/ shared the power of inclusion and the incredible opportunity of inclusive professional development for Catholic educators.
In the evening, we had a chance to mingle and connect with our two drink tickets (shout out to FIRE for the hospitality!) and I got to meet Christy, Vincenza's mom. She told me the journey she had in finding a school that would welcome Vincenza a kindergartener who uses a wheelchair to play and participate in life. Vincenza needs help with toileting and doesn't use words to speak. Her local public school felt that Vincenza should be separated from her peers. But Christy wanted more. Her local Catholic school in Tulsa, Oklahoma also did not think they could welcome Vincenza. Christy searched state by state – WILLING TO RELOCATE HER FAMILY if Vincenza could have a chance to be fully included. She found her school in Visitation Catholic School in Kansas City, Missouri…a FIRE ???? school! https://www.visitation.org/ Vincenza's family moved from Tulsa, Oklahoma to Kansas City, Missouri to begin the year…only a few weeks into the year, Vincenza received this drawing from a friend in class.
This is a drawing by a kindergartener and made for her friend, Vincenza: her classmate that uses a wheelchair to play and participate in life.
For this kindergartener who doesn't use a wheelchair, it's as ordinary as any other part of her kindergarten day. If her grandmother needs to use a wheelchair, it will be no biggie. If someday she might need a wheelchair, it will be something that she has seen used with fun and joy. Most importantly, using a wheelchair to navigate the world will be what this child knows as a typical part of life and accessibility will be seen as a non-negotiable must-have for the rest of her life.
We DISADVANTAGE typical students when we don't build inclusive classrooms.
Flip the coin: imagine how Christy feels. They wondered if their child would ever have a friend. They got their answer. ❤️ Follow the kids, they know the way.
It was a full blizzard outside but that cozy fireplace is a metaphor for the cozy FIRE ???? of inclusion going on in Kansas City, Missouri.
So grateful to everyone who came…the amazing people who worked so hard to put on such a magnificent conference…next February…find a way to get to Kansas City!
Get a FIRE ???? in your belly for inclusion!