** This blog post was written the night of Patrick's graduation, Saturday, May 31st, 2014. **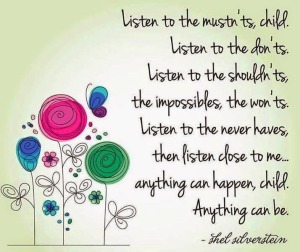 Anything can be.
Anything.
Tonight is proof.
5,445 days ago a little baby was born.
He had Down Syndrome…a heart defect and later leukemia.
5,445 days ago I didn't know a thing.
I was biased and prejudiced.
Flattened and broken.
I believed the mustn'ts and the don'ts.
And the universe handed me a child…and his soul whispered to me,
"Anything can be."
I didn't know what to do or how to be.
But my older two kids did.
They knew how to love and they poured it on thick.
They were delighted with this baby filled with shouldn'ts and won'ts.
They knew the secret:
Anything Can Be.
Slowly.
Following the path of love and the glittered steps of preschoolers who knew best, I learned.
I learned that mothering this new baby was the same as mothering those other two…
love, belief, faith, being there….day in and day out.
*****
Recently I read this essay about wishing out loud.
I loved it.
In it, Mitchel encourages you and me to: "Share your wishes freely to anyone who will listen."
I've been doing that for awhile.
Wishing out loud.
LOUD.
Please, please, please let all children learn alongside each other.
LOUD.
Back in 1999, when Patrick was born, honestly, it felt like my wishing flame pilot light had gone out.
I didn't know what to wish for.
I felt alone.
Isolated.
I had no road map…and for someone who used to pour over the giant world atlas, that felt weird.
What does this new world of mine look like?
Who is with me?
Am I as alone as I feel?
*****
5,445 days have gone by.
The baby has gotten bigger, grown stronger, and is sitting on the edge of manhood.
He's reading, writing, passionate, funny, exuberant and his very own self.
Incomparable.
Inexplicable.
Indefinable.
Miraculously irreplaceable.
I could never have known his place that he alone would carve out for himself in this world of ours.
I could never picture his truth.
All I could do was live alongside him and show up each day…learning the lessons meant for me alone.
5,445 lessons…perfectly circular…perfectly balanced.
Tonight it all came together.
Tonight Patrick graduated from 8th grade…from a Catholic school.
He's the first in the diocese to be fully included in the regular classroom,
learning alongside his typical peers,
attending the same school as his big brother and sister.
The first.
In blue cap and gown he walked in holding a lit candle.
Light in the darkness.
Another reminder.
Anything can be.
He strode up to receive his diploma.
He sat back down and listened to the award winners.
Award winners for art, math, science, social studies, PE, literature.
His name wasn't called.
It didn't matter.
The award for most improved in Computer Class came and his name was announced.
He popped up — eager to be singled out and awarded.
It felt good.
We moved on.
Suddenly, the teacher mentioned a special award.
She spent time explaining the award.
She detailed the recipient.
Describing attitude, effort and perseverance…lessons taught, day in, day out.
Patrick's name was the one on the award.
And like a crazy dream, he leaped up to receive the award
as his classmates cheered.
His classmates stood up.
The audience stood up…
the room transformed into a full standing ovation
I just sat there…
until the energy of the room pulled me up and I turned to my mom and asked,
"Is this real?"
I couldn't take it in.
Couldn't really make sense of it.
Anything can be.
This child of mine — so broken to the outside world — was fully seen, fully recognized,
fully accepted on this day, in this moment, at his school.
He was worthy.
He was good enough.
In fact, he was admired and awarded.
And in this moment, in this dream-like world, we were one.
Every single one of us in that big church belonged.
We were valued.
We were loved.
The message was loud and clear.
You, Patrick Foraker, have taught us something.
Something we didn't know until you showed us.
There will always be mustn'ts and can'ts.
Don'ts and wont's.
None of it matters, friend.
Anything can be.
So today I am grateful for this moment of hope and encouragement.
Profoundly grateful to the many, many encouragers who met us on this path.
Grateful to Sarah and Steve and Ashley and the many priests, principals, teachers, aides and staff who found a way to make anything be real.
Grateful for ordinary holiness, sacred acceptance, and this moment right now.
Anything can be.
Dreams come true.
Share your wishes out loud.
Wait.
Watch what happens in a few thousand days.